Top Technology Trends in Retirement Living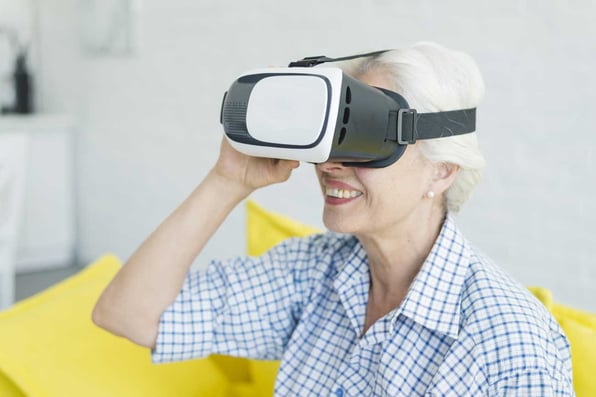 COVID-19 has presented numerous challenges for Community Operators, Community Staff at all levels, and most importantly, the residents living in the community. To help address the Covid-19 pandemic, some assisted living organizations had to increase their tech spending last year. And looking ahead, it is highly likely that these organizations will increase their technology budgets in 2021, spending more on items such as resident monitoring, contact tracing, telehealth and virtual tours.
Technology changes that have been introduced to enhance resident safety and maintain a consistent level of health have been extraordinary. Some of the trends highlighted below have been provided as a direct result of the pandemic and will continue long after we come out of this situation.
Trend #1 – Telemedicine:
Telemedicine have steadily grown in popularity over the last few years. However, recent changes during the COVID-19 pandemic have reduced barriers to telehealth access and have promoted the use of telemedicine as a way to deliver acute, chronic, primary and specialty care.
This technology can assist with simple diagnostics and prescribing medication while residents avoid unnecessary visits to the emergency room in a secure, private environment. Remote patient monitoring gives seniors greater transparency into their overall health, but that does not reduce the importance of in-person care.
Trend #2 – Electronic Medical Records
Many retirement living communities have incorporated electronic medical records (EMR) and digital point-of-care systems into their everyday operations. These have a variety of benefits for both residents and staff, including:
Enhanced security for senior medical records

Improved efficiency across management and frontline staff

More accurately documented care and eliminated paper inefficiencies

Reduced operating costs via enhanced documentation and monitoring

Additional time for staff to spend with residents
EMRs have many advantages such as providing accurate, up-to-date and complete information about residents, quick access to their medication records, sharing information with the resident and other clinicians securely, and reducing costs through decreased paperwork.
Trend #3 – Internet Of Things (IoT)
The Internet of Things (IoT) is a network of Internet-connected physical devices that send and receive data. They make spaces "smart" and are designed to make everyday tasks more convenient. The IoT empower residents by allowing them to control their physical environment.
Technology in retirement living — specifically the IoT — is particularly beneficial for older adults due to its emphasis on convenience and safety. Smart technology is often voice-activated, reducing the risk of slips, trips, and falls while attempting to get to and operate objects. And personal assistants like Amazon Alexa, Apple Siri, and Google Home provide important information in a flash.
Smart technology also benefits seniors due to its ability to gather data that helps caregivers attend to resident needs. For example, you might provide "smart" pads that monitor a senior's movement to detect activity or inactivity.
Trend #4 – Wearables
Wearables connect to the Internet of Things and are a great way for residents to maintain high levels of independence. For their part, smart watches monitor an ever-widening array of activities of daily living, vitals, sleep patterns, falls, and much more. Nowadays, residents with diabetes can avoid the pin-prick test by wearing a patch that can transmit blood sugar readings to a smartphone.
Personal emergency response systems (PERS) often come in the form of a pendant or bracelet. PERS can often be connected to apps that allow caregivers an extra level of insight into resident activity and health. Remote care monitoring facilitates more proactive management of chronic conditions and can even support elopement prevention.
Trend #5 – Video Calls
Video calls can help cope with this pandemic and enhance the well-being of an older population. It allows seniors in retirement communities to remain physically distant, but emotionally present.
During the pandemic, seniors have increased their use of video calls as a way to communicate with family and friends. There are many apps (Skype, Zoom, FaceTime) and devices (Amazon Echo Show, Portal from Facebook, Google Nest Hub) available to connect residents with the outside world. These technologies allow seniors to share in exciting milestones, such as weddings, graduations, birthdays, and more.
There are many benefits to adding technology in retirement living, and it is important to embrace the positive impacts it can have on the community. When best utilized, technology improves quality of life for seniors and increases satisfaction for residents, families, and staff.
Would you like to learn more about how MED e-care can help you?
Get awesome content delivered straight to your inbox!
Posts by topic