3 Common Medication Errors and How to Avoid Them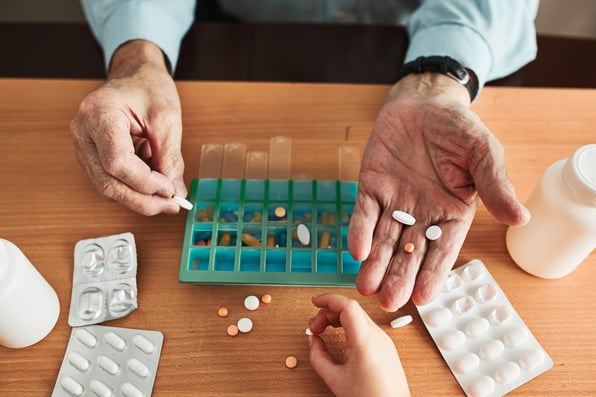 Every senior living community's number one priority is to provide a comfortable, safe home for its residents. One of the central tenets of this ethos is providing them with exceptional healthcare treatment, especially when it comes to medication administration.
Failure to properly administer medication to your residents can cause lasting damage to both their health and your community's reputation. With an increasing number of medication errors in senior living, it's essential to understand how these errors occur, and how you can prevent them.
In short, medication errors occur when treatment does not match the 5 Rights:
Right Patient
Right Drugs
Right Dose
Right Route
Right Time
Failing to meet any of the 5 Rights can have serious repercussions for you and your resident, so it's critical to educate yourself on the most common medication errors and how to avoid them.
In this blog, we'll walk through key statistics related to the mishandling of medication, the top three factors that contribute to them, and the solutions you can leverage to reduce medication errors and improve resident care.
Key Statistic: Medication errors affect 16-27% of nursing home residents.
#1 Prescribing and Dispensing Errors
From prescription to delivery, there are plenty of opportunities for miscommunication or simple mistakes to impact the medication process. Some of the most common errors are related to dosage and medications with similar names.
For instance, it is not uncommon for a pharmacy tech to misread a prescription and accidentally fill the said prescription with too high or too light of a dose. This can have serious side effects depending on the strength of the medication or the resident's sensitivity to it. Potentially even more dangerous would be the mistake of misreading a prescription and administering a medication with a similar name but completely different effects. The vast majority of residents are on multiple medications, and medication errors of this kind put them at risk for unintentional interactions.
Preventing these types of medication errors simply comes down to clear communication between pharmacists, providers, and nurses. One of the easiest ways to effectively and meticulously track and record the flow of medication-related information is to implement an eMAR system that has direct integration with your primary pharmacy.
Not only will this ensure that residents are receiving the correct medication, at the correct dosage, every time, but it will also eliminate typos, human error, and admin time for your staff.
#2 Repeat Prescribing Without Proper Checks
Repeat prescribing can sound understandably appealing to care providers. It decreases your workload, and residents have the comfort of knowing what to expect from their medication plan. However, it is not without risk. Resident health status is a moving target, and those with delicate health should be continuously monitored and have their medication adjusted to best treat their current needs as health issues elevate or recede.
So repeat prescribing does have its purpose and uses, but it's important not to become too reliant on it for your residents who need to be monitored more closely.
Key Statistic: In the UK, between 1997 and 2017, repeat prescriptions doubled in frequency.
The good news here is that this is just as easy to avoid as it is to institute. Standardizing medication updates and check-ins can eliminate risky practices and ensure residents receive proper medication.
#3 Failure to Monitor Progress
A failure to monitor progress is marked by a lack of attention to how the resident may be reacting to a new medication or how their treatments are interacting with one another. This can be especially impactful if a resident's care team has a goal of eventually decreasing the total medications prescribed, as many providers often do. If that is the goal, then staff should be doing everything they can to monitor the patient's condition and determine whether it's prudent to reduce or eliminate certain medications.
Another potential repercussion of inattentiveness to patient progress can be underprescribing medication, whether it be an entire medication or just the dosage. Failure to identify potential issues with a patient's condition can quickly compromise their health.
Both of the issues related to a failure to monitor progress could be attributed to national residential care staffing issues, with critical staffing shortages being reported in over half of Canadian nursing homes and roughly half of the senior homes. This not only means that there are restricted amounts of staff hours but that staff may be undertrained, not given proper acclimation and training periods, or are simply underqualified.
Discover A One-Point Solution
Many of the errors above can be traced back to traditional Medication Administration Record (MAR) practices. With only a paper trail to keep track of which medications are prescribed and administered, confusion is inevitable, and residents end up paying the price. A solution like Med e-care's eMAR (electronic Medication Administration Records), is an invaluable tool in preventing missteps, poor monitoring, and even repeat prescribing.
Key Statistic: Studies have shown that medication errors can be reduced by up to 87% when a facility implements eMAR technology in its care management.
Med e-care's eMAR has online and offline abilities, so your team is always connected and well-informed. Its closed-loop interface means that it is directly connected to the pharmacy, so your care home staff can ensure that the 5 Rights are being met.

All applicable resident information is displayed on the eMAR administration screen, so your staff can easily access it.

Residents' medical conditions and allergies are listed within the eMAR.

eMAR allows your staff to review or add documentation during or after administration, including a feature that allows you to view and record bio-tet results and PRNs.

Your staff is given the tools to effectively manage emergency stock mediation and medical directives.
Would you like to learn more about how Med e-care can help you?
Get Awesome Content Delivered Straight to Your Inbox!
Posts by topic