Aging in Place – The New Retirement Home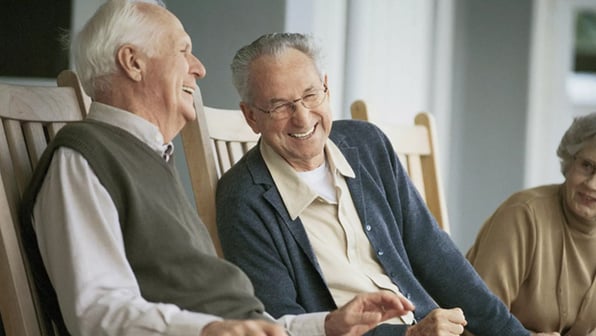 In the past, Retirement Homes focused on the fairly independent elderly – Those who required some assistance with activities of daily living i.e. bathing, medication dispensing. The sell for the homes of the past was on the amenities provided i.e. recreational activities and services, meal selections, transportation, comfortable and attractive living environments, personal grooming services (i.e. hairdresser, manicurist), etc.
Today, many Retirement Homes have undergone a cultural shift to an Aging in Place philosophy. This philosophy allows for a much greater range of services and care options including assistance with dressing, wound care management, chronic illness management, ambulatory assistive devices, and much more. A number of homes have taken this even further by developing Memory Units specializing specific supports and care to those experiencing mild to moderate dementia. To learn more about how we can help you regarding your care options, book a presentation with us.
These changes and enhancements to care have also resulted in a shift in the staffing profile of many homes with more emphasis on registered staff on duty, trained personal support workers, onsite visitation by a physician and/or nurse practitioner, physio, OT and dental services.
This cultural shift has created the need for a greater sophistication in clinical operations then what most Retirement Homes would have even considered in the past with emphasis on staff training and orientation programs, policy and procedure manuals, comprehensive documentation, resident specific care plans, and shift-to-shift and staff-to-staff communication now being the common practice of the successful and competitive Retirement Homes. To do without any of these measures and supports jeopardizes the ability to service those individuals in need; frustrates the resident and those attempting to provide the care and service; increases client/family complaints; taints the homes reputation; and is fraught with litigation risks.
The successful Retirement Home makes the necessary investment in its people, its process/structure and the tools needed to perform the job effectively and efficiently. This is an exciting and changing time that justifies today's Retirement Homes to be considered a part of the Continuum of Care, alongside community support programs, hospitals and long-term care homes. More importantly, this cultural shift has become the expectation of the 'new' senior population.

---
Would you like to learn more about how Med e-care can help you?
Get Awesome Content Delivered Straight to Your Inbox!
Posts by topic